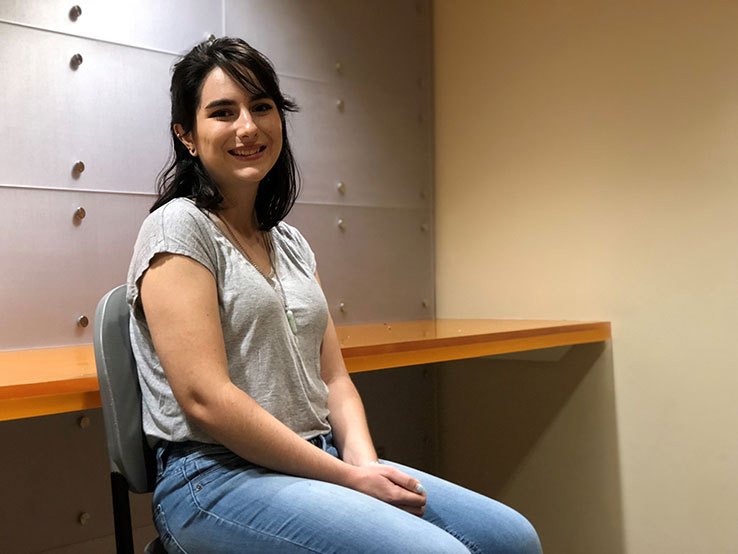 Sophia Fetterhoff—Crafton Provides a New Focus
Student Profile
Sophia Fetterhoff was destined to major in art – or so she thought.
It was while attending a four-year university the 22-year-old Redlands woman discovered art was more of a "passion project" rather than a full-time career.
So, she made the switch to Crafton Hills College in search of answers and found them. "I originally came here not knowing what I wanted to do," she said, "but I ended up taking an Intro to Sociology class and got into it from
there."
With plans to major in the study, Fetterhoff plans to use her skills to help others. And while she is still deciding which four-year university she'll attend upon graduating from Crafton, she is still making additional discoveries along the way, including a newfound love of math. Fetterhoff is currently in the middle of her last math class requirement, but thanks to the guidance of longtime Crafton professor Jodi Hanley, she is making plans to enroll into additional courses for fun.
"The last class I took in math I was 16, so it had been a while. But she has helped so much with that," Fetterhoff said. "(Hanley) really just holds your hand throughout the process but doesn't baby you. She makes sure you understand the material before going into a new subject and always backtracks to ask, 'Okay, are you understanding this?' or 'Which parts do you not understand?' She makes sure everyone is on the same page and is not left behind."
Being able to do all of this at Crafton is a bonus, Fetterhoff said, because the college is close to home and she is "lucky enough not to be in student debt."
"For me, the idea of attending a community college in high school was something I didn't want do because I had this image of going to a four-year university. But I've been there and done that," she said. "A good education is as good as the teachers teaching it and being at Crafton has opened my eyes to the idea that a community college is not as dull and drab as my high school counselors convinced me they were."