African American Artist Closes Black History Month Exhibition With Video Art Presentation
A pioneer of African American video art, Ulysses Jenkins selected a wide range of pieces for his recent exhibition at Crafton Hills College, a retrospective of his career as a video and performance artist.
Through his work, Jenkins examines race, history, and power. His retrospective, which was featured during the month of February for Black History Month, featured pieces that have been on display at the Getty Museum, the Hammer Museum, and the Whitney Museum of American Art, in addition to 10 CDs he made with the Othervisions Art Band.
"I'm telling a little bit of a story," he said. "The story involves, I think, my participation in the arts community and some observations regarding our society and direction that it's taken."
Snezana Petrovic, chair of CHC's fine arts department, asked Jenkins if he would be interested in an exhibition, and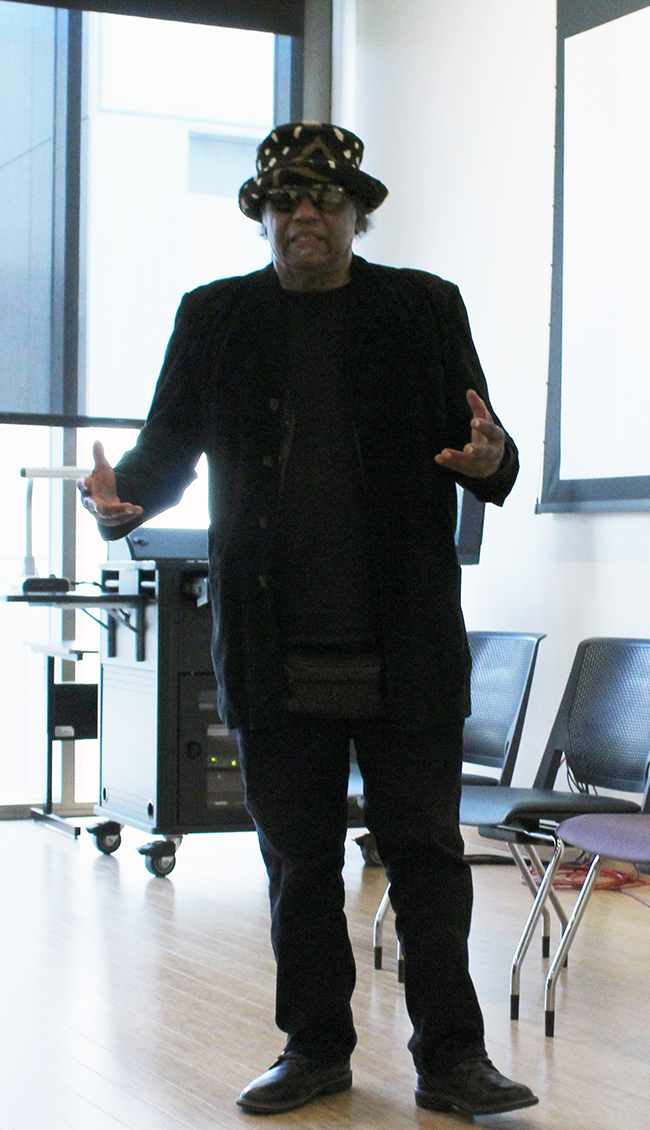 suggested some of his pieces that she'd like to see on display. Jenkins hopes that visitors walked away from his exhibit "with an ability to scrutinize things that are going on in the public sphere these days, in particular our relationship with the president," he said. "Not a lot of the work was made just because he was elected, but to a certain degree, the work that goes back as far as the '80s, they were reflections on certain kinds of conservative notions of class and wealth and privilege."
Jenkins has always been an artist — he remembers seeing his father doodling, which inspired him to pick up a pencil. "I thought, 'That looks like something interesting,' and I started doing it, too," he said. Jenkins earned his bachelor's degree in painting and drawing at Southern University in Baton Rouge, then returned to Los Angeles, where he started painting theater backdrops before moving on to murals in Venice Beach.
In the early 1970s, he started the media group Video Venice News, documenting the African American experience in the area, and his first artistic video, Mass of Images, came out in 1977. Not long after, Jenkins enrolled in the Otis Art Institute, where he earned his MFA in Intermedia-Video/Performance Art.
"As a kid, we always played around with different kinds of concepts of performance, just by playing," Jenkins said. "When I did get to grad school and the whole notion of storytelling was being created within the context of a narrative voice, I thought, 'This is pretty fantastic.'"
Today, Jenkins lives in Los Angeles and is a professor of art at the University of California, Irvine. He continues to make art himself, and hopes his work helps people "get a better understanding of the world in which we live."