What is Safe Space?
Safe Space is a program that helps students of diverse backgrounds identify Crafton Hills College faculty, staff and administrators whom they can approach for support and guidance without fear or judgment. Safe Spaces are created for members of the Lesbian, Gay, Bisexual, Transgendered and Questioning (LGBTQ) community, although all students are welcomed and included. The first safe space programs were developed in the late 1980s. Crafton Hills College established its Safe Space program in 2014. Here, the program offers training to Crafton Hills College employees to support them in providing support and referrals to LGBTQ students. Those who complete the training are called "allies" and these allies create safe spaces by being open in their support and acting as advocates. Safe Space helps to establish a campus as an inclusive and educational environment where all members can engage, learn, and advance.
How to spot an ally?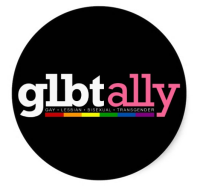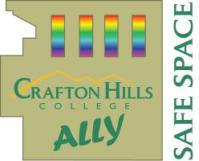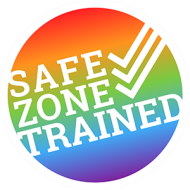 Faculty, staff and administrators who are Safe Space allies will have this image displayed either on the door to their office or workstation. Others may include it on their syllabus or Blackboard website. Safe Space allies are trained to listen openly, provide support and make referrals to resources both on and off campus. Safe Space allies do not provide counseling. Students seeking professional counseling should contact either the Counseling Department or the Health and Wellness Center. There are others throughout campus who are also allies to the LGBTQ community who may not have a Safe Space designation. These individuals are encouraged to participate in trainings held twice a year and become a recognized Safe Space ally.
How can I get more information?
If you are interested in learning more about the Safe Space program, please contact either Breanna Andrews, Associate Professor of American Sign Language at bandrews@craftonhills.edu or 909-389-3338, or Rick Hogrefe, Professor of Communication Studies at rhogrefe@craftonhills.edu or 909-389-3205.
When is the next training?
Trainings are open to all CHC employees. For information regarding the day/time/location of the next training, please contact Breanna Andrews at bandrews@craftonhills.edu or 909-389-3338.
If you are a student and are interested in our Student Ally program, please click on "Student Ally Training" in the right side navigation menu for more information.