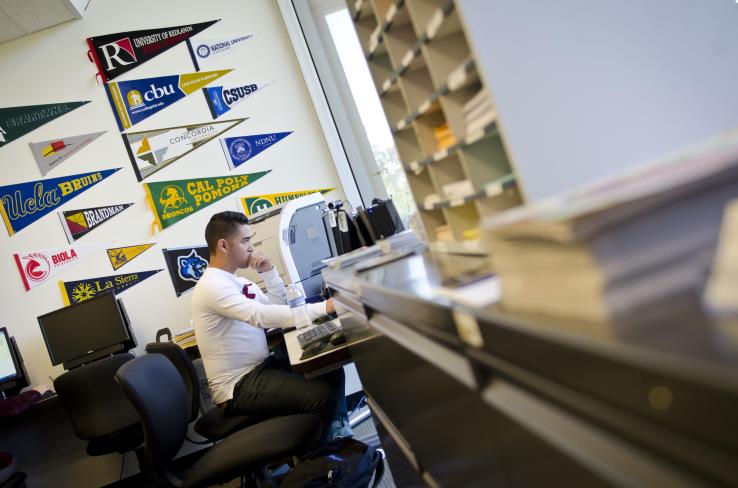 Virtual Drop-In Transfer Help
For students who are getting close to transfer or who have applied. This is just for quick questions or help. For an online counseling appointment, click the link below.
| | |
| --- | --- |
| March 4th | 2:30pm to 4:00pm |
| March 5th | 9:00am to 11:00am |
| March 8th | 2:30pm to 4:30pm |
| March 10th | 3:00pm to 5:00pm |
| March 12th | 11:00am to 1:00pm |
| March 15th | 4:00pm to 6:00pm |
| March 17th | 11:30am to 1:30pm |
| March 19th | 9:00am to 11:00am |
| March 30th | 10:00am to 12:00pm |

Zoom link: https://cccconfer.zoom.us/j/95893433114
---
Speak to someone online:
Services
Transfer assistance to CSU, UC, private and out-of-state universities
Create a 2-year educational plan for successful transfer
On-site University Representatives to review progress
University Field Trips
University Fairs and Events
Workshops to help you with the transfer process
Computer workstations
University catalogs and college search resources
College/University Research
College Source - Links to catalogs for colleges and universities in the United States
California Colleges - Explore California colleges, Careers and information on funding sources for colleges.
For questions contact the Transfer Center at transfercenter@craftonhills.edu

Biography Questionnaire for Transfer Recognition Luncheon (Submit by May 10th.)
Check out all of our transfer workshops and university rep visits