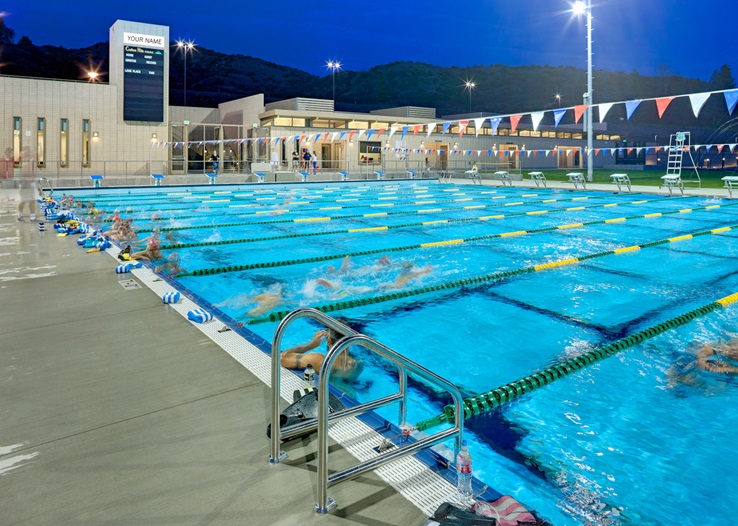 POOL CLOSED
Due to COVID-19, the pool is closed to all users beginning Monday, March 16 through May 31, 2020. Tentatively the pool will reopen Monday, June 1, 2020. Updates will be posted on this page as they become available.
The Crafton Hills Aquatics Center features a 50 meter by 25 yard Olympic Swimming Pool kept at 80 degrees year round. The pool is 7 feet deep from end to end, there is no shallow water anywhere in the pool. It can be configured to accommodate long course and short course training (not at the same time). The pool totals 19 short course lanes and 8 long course lanes.
The Aquatics Center is located on the north/east side of campus just below parking lot J.
Lap Swim Hours
POOL CLOSED until June 1. Summer hours will be posted in May 2020.
Schedule subject to change. Hours may be adjusted based on CHC/YHS athletic events.
For swimmers registering on-line you must show the lifeguard your receipt when you arrive. Please have your receipt printed or be prepared to show your receipt on your mobile device. You will receive a parking pass valid for the aquatics center parking lot during scheduled lap swim times.
Locker rooms are for adults only and are not available during evening hours. Evening lap swim is 2-3 lanes depending on use and is for swimmers ages 10 and up who can consistently swim laps.
All children must be able to swim across the pool unaided.
For any questions contact aquaticscenter@craftonhills.edu.
Community Swim Passes
$5 day pass; $20 for 6 swim punch card,
Best Value of $25 for a month of unlimited swims.
Purchase day/monthly passes or punch cards here
Student Pass:
Students who participate in the recreation fee are welcome to swim at no additional charge. The rec fee is an optional $8 fee paid per semester at registration which allows student access to the fitness center and pool for the semester during designated hours.
Staff Swim/Fitness Center Passes