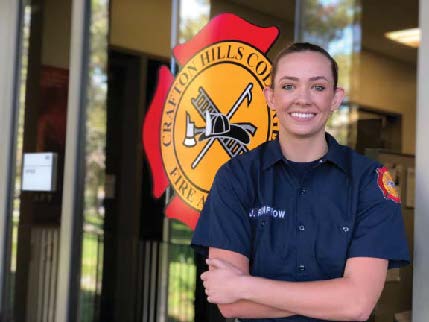 Jessica Renfrow—RESA Graduate & Fire Cadet
Student Profile
Jessica Renfrow enrolled in the Redlands Emergency Services Academy on a whim.
Although the 2015 Redlands High School grad knew she wanted to explore a career in public service like her father – a police officer – the former Terrier never considered becoming a firefighter.
RESA is a week-long academy hosted by the Redlands Fire Department. The goal of the program is to expose high school graduates to careers in public safety with cadets traveling across the city to take part in a series of activities that do not shy away from the nitty gritty of life on the job.
Renfrow, now 21, was hooked.
After graduating from the program, the Redlands resident began working with the Redlands Fire Department's Fire Explorers which, eventually, led her to apply for Crafton's Fire Academy where she is already excelling just weeks after its start date.
"She's on the fast-track to getting into the fire service," said Mike Alder, the program's fire chief. "She
is one squared away young lady."
That's Renfrow's goal.
Eventually, she wants to see herself among Redlands' finest. The department itself has thrown its support behind Renfrow, who recalled some of its personnel taking time from their busy schedules to help her train and share a bit of advice.
"When everyone in the department knows you're going into the fire academy, they want to talk to you and tell you what's going to happen, and that in itself gave me a good idea of what coming into the academy was going to be like," Renfrow said. "What surprised me though was the additional knowledge and opportunities where I can build upon what I've already learned.
"I want to go back (to Redlands Fire) and invest in the community I grew up in," she said. "I want to give back to other cadets and teach them things the way I've been taught by others."