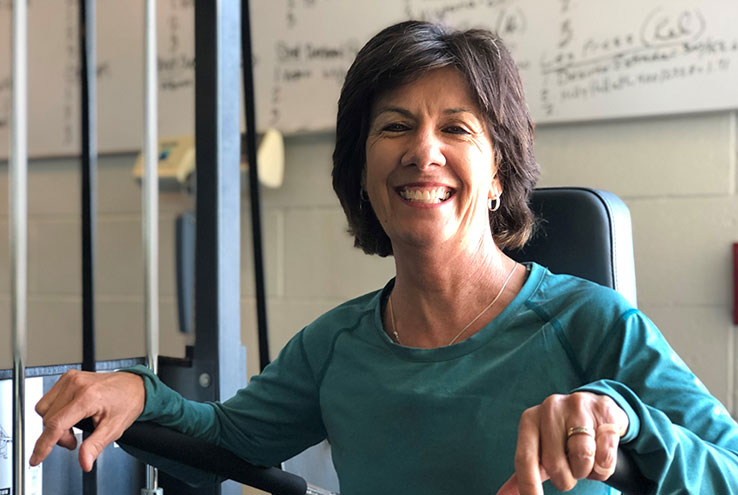 Janine Ledoux—3 Decades of Health & Fitness @ CHC
Faculty Profile
Janine Ledoux's fascination with health and fitness can be seen from the moment you step into the Fitness Center at Crafton Hills College.
When she's not wielding questions from her students or helping improve their form, the professor of kinesiology and health can be seen taking in a few sets of her own using equipment strategically placed inside the space.
Nutrition and health are two subjects that have always interested Ledoux and led to a 30-year career at Crafton where she works with students to develop a physical and mental healthy lifestyle. "I've always been fascinated in food and what it does to the body. But it wasn't until I was in my undergrad program (at Bridgewater State College) nutrition came alive to me. And then I liked the whole fitness aspect to it all, so it was like the best of both worlds," Ledoux said.
She began her career in health and fitness back east before coming out to California to obtain her doctorate at Loma Linda University. Her plan was to head home and get a teaching job but she applied for a part-time position at Crafton and was hooked.
"I thought I'd stay here for a few years and then leave," Ledoux said, "but I loved the diverse student population and small college atmosphere."
Decades later, Ledoux is doing more than just teaching health and nutrition. She has developed a family of her own on campus and works behind-the-scenes to support students with hardships by creating opportunities for them, she said.
"I am really passionate about feeding hungry students," Ledoux said, adding CHC now has a community garden and an active food pantry – COACH Cupboard - to help tackle those needs. "I want to bring more attention to our students in need and that comes through volunteering. I want to make sure their basic needs are met and be that person who will listen and advocate for them.
"That's just who I am," she continued. "And that is such a blessing to me because while I have always loved my job, I feel like I'm making a bigger difference."