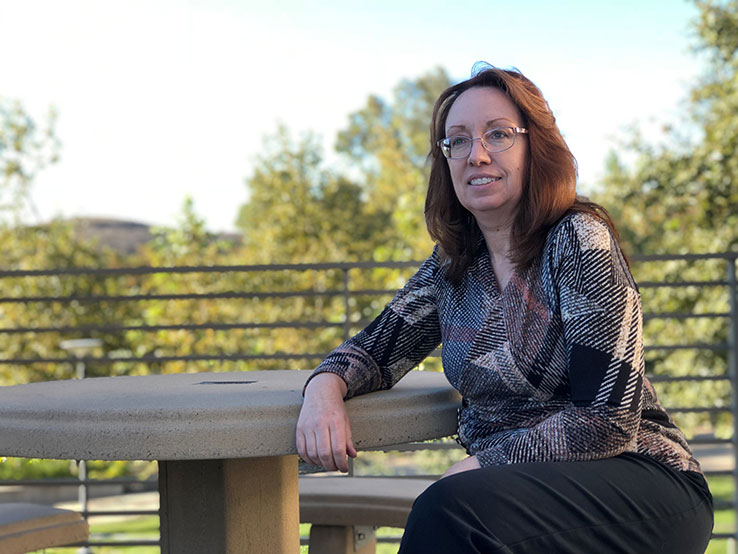 Jodi Hanley—Brings a Different Approach to Teaching
Faculty Profile
Jodi Hanley knows math is not for everyone.

But when it comes to teaching the subject, the longtime professor of mathematics at Crafton Hills
College takes the same approach she did as a math tutor in college.
"I teach it as though students are entering the classroom not knowing they actually have the knowledge to do it," Hanley said. "I don't talk at them – I talk at their level. And my job is to make sure they understand the material."
Hanley said she hated math as a child but found her niche after transferring from Cal Poly Pomona to Cal State San Bernardino where she earned a bachelor's and master's in the subject in 2000 and 2002, respectively. She began teaching for the San Bernardino Community College District in the early 2000s and became a full-time math professor at Crafton in 2004 following a short part-time tenure at the college.
Hanley uses her past to not only relate to her students but help those on the fence about math understand the subject better. She also can relate to the struggles veteran students often face when deciding to enroll in college post-military service as she served in the Marine Corps for six years.
"A lot of teachers on campus can't understand what a military person went through during their time of service," Hanley said, "but there's something to be said about having an instructor who understands the military because it
helps (our veteran students) feel more comfortable in the classroom."
After leaving the service, Hanley began her college studies at San Bernardino Valley College with plans to major in civil engineering, but a health-related matter and a tough course load were among the reasons she changed majors.
Teaching just came naturally.
"The light bulb turning on is the best thing about my job. Whether you're a teacher or a tutor, the most exciting thing is seeing that the concept is understood," Hanley said. "When a person says they switched their major to math, that also is just really cool."