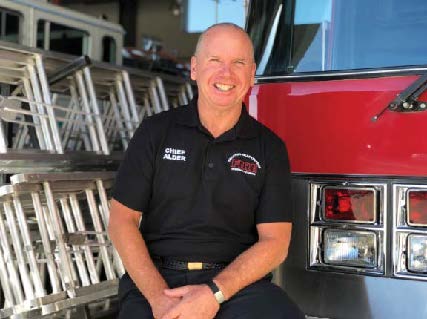 Mike Alder—Fire Academy Chief
Faculty Profile
Mike Alder has seen a lot of change to Crafton Hills College's Fire Academy since first stepping foot on campus in the 1980s.
Today, he's chief of the entire department, which is working to diversify itself by adding more women to its fleet. But one big issue has always stood the test of time: program costs. The 16-week academy requires cadets to spend close to 12 hours each day on campus training both mentally and physically for their desired career path. This often leaves little time to secure part-time or even full-time work.
Alder and his crew are not immune to the hardships many cadets face, which is why they work behind-the-scenes securing grants and other scholarship opportunities for academy students.
Alder knows what it takes to succeed in the field, as do others working with Crafton's fire program.
He first became involved with the fire academy in 1985 while working full-time with the San Bernardino City Fire Department. He left Crafton to take care of his brother following a horrific car accident but returned to
classroom instruction in 2009.
He retired from the fire department after a 30-year career in 2012. Two years later, he became chief of Crafton's fire academy.
Alder looks to set the department's tone by helping his cadets pick the right career for them and which work they wish to do for the fire department.
He wants cadets to know the realities that could come with working in public safety, from the good to the bad to the ugly. Alder also wants to teach his cadets the importance of service because, as he put it, maintaining a career in fire is "not about the money but giving back to the community."
"I get really energized working with these young men and women who have their whole career in front of them," he said. "Teaching the curriculum is the easiest part. The hardest part is getting them mentally prepared to get into the fire service."
When not on campus, Alder enjoys spending time at home in Redlands with his wife Carla and their two rescue dogs. The couple enjoy cycling and have incorporated their love for the sport into their vacations, most recently taking a 200-plus ride from Seattle, Wash. to Portland, Ore.