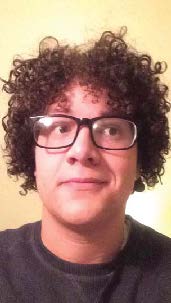 Elijah Gerard—Anthropology Student & Trustee
Student Profile
In the past, people have told Elijah Gerard that he talks a little too much and shares his opinions too loudly at times.
So, he decided to put those so-called perceived flaws to good use by running to become Crafton Hills College's newest student trustee on the San Bernardino Community College District's Board of Trustees.
"Like most people my age I've been really stressed out about the state of politics right now, and I've always been interested in what I can do in my own community and college," he explained.
"So, I sent an email to learn more."
Gerard ran for two open trustee positions, including a back-up role that would have allowed him to learn more about trustee responsibilities in that capacity. He ended up winning both races.
The Redlands resident said he could see himself running for local office some time in the future but first wants to focus on graduating college with a degree in anthropology and, later, in the classroom shaping a new generation of movers and shakers.
"But as of right now I want to see more students at Crafton become more involved. Trustee meetings are open to the public and I want to see more students become interested in the work that is being done on their behalf. So come and attend a meeting – or two."