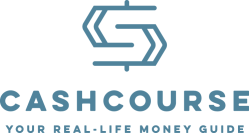 CashCourse is a nonprofit personal finance website that teaches you the practical money skills you need to get through college and prepare for future financial challenges. Learn how to save, budget, be smart with your money, and much more.
CashCourse® is your guide to taking charge of your money. Our online personal finance tools help you build real-life-ready financial skills.
Here's how to register for your free CashCourse account:
Visit www.cashcourse.org and click Register for a Free Account under the Students tab.


Fill out the registration form with your name and email address and create a password.


Select your state and school from the dropdown menu.


Start using the CashCourse website!