Online Career Counseling Now Available
Career-related counseling services are now available online. This dynamic service is designed to provide synchronous online counseling sessions for students who might otherwise not be able to visit the Career Center in-person. These online services utilize Cranium Cafe, an interactive and secure online meeting hosting portal.
Any desktop or laptop with a camera (preferred method) ORWhat you need to participate:
A tablet or smartphone device (iOS Apple devices require download of the ConexED App)
Chrome browser
Headphones (optional)
Monday, Tuesday & Thursday - 9 a.m. – 5 p.m.
Wednesday - 9 a.m. – 6 p.m.
Friday - 9 a.m. – 1 p.m.
Career Counseling Services online:
A variety of career services are available online, including:
Getting Started - Make an Online Counseling Appointment: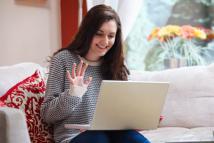 To make an Appointment - Knock on door of Haly Mount, Monique Ware, or Brandice Mello below.
To attend a Workshop- Click the Green Workshop Icon on Haly Mount or Brandice Mello card below
Preparing for your Appointment - 1 day Before
Please review prior to your appointment.

Prepping for your appointment (pdf)