Career-related counseling services are available online. This dynamic service is designed to provide synchronous online counseling sessions for students who might otherwise not be able to visit the Career Center in-person. These online services utilize Cranium Cafe, an interactive and secure online meeting hosting portal.
What you need to participate:
Any desktop or laptop with a camera (preferred method) OR
A tablet or smartphone device (iOS Apple devices require download of the ConexED App)
Chrome browser
Headphones (optional)
Fall Hours
Monday - Thursday - 9 a.m. – 4:30 p.m.
Friday - Online Only - 9 a.m. - 1 p.m. (Campus Offices are closed)
Career Counseling Services online:
A variety of career services are available online, including:
Getting Started - How to Schedule an Appointment
Stop by in-person CCR-220 (Campus Map) OR
Call us at 909-389-3399 OR 909-389-3366 OR
Visit our website, log into Cranium Cafe, and Knock on staff door (Monday -Thursday 1:00-4:00pm or Friday 9:00am-1:00pm)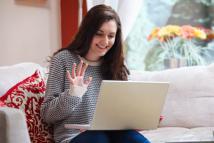 To make an Appointment - Knock on door of any staff member below.
Preparing for your Appointment - 1 day Before
Please review prior to your appointment.

Prepping for your appointment (pdf)