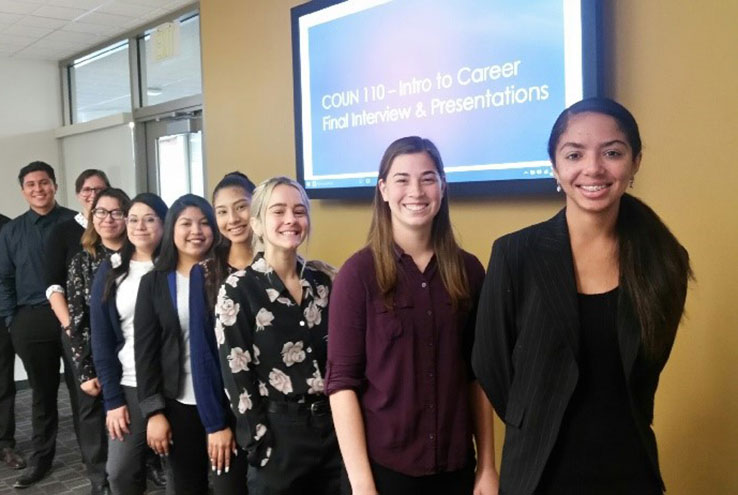 Students
Career Clothing Closet is a free service to all students. If you need a suit for an interview or a professional career outfit for your first day(s) of work, then the Career Clothing Closet is for you!
Obtaining Clothes:
Simply stop by the University Transfer & Career Center, Crafton Center, Rm 220, 2nd Floor. Request access to the Clothing Closet. A UTCC staff member will escort you over to the clothes closet.
Students may opt to have up to 2 full outfits per semester.
A current CHC Student ID and signature are required to obtain clothing.
Dress for Success Pointers/Tips
Try on clothes prior to wearing them for an interview
Ensure that clothes fit, if not have them tailored
Iron clothes the night before
Clean shoes for any "scuffs or markings"
Check clothing for "holes or stains." Clean garment or determine not to wear
Check for Functional zippers, buttons, etc. If not functional either fix or determine not to wear
Color coordinate. If you need assistance, bring your clothing items to the Career Center. Career Counselor or Student Service Tech can provide advice. Check out clothing color coordination apps from Google Play or Apple Store
Listen to "Dress for Success" podcasts on Career Runner (hyperlink) Must Log in with you student ID and create you a password to listen. https://www.collegecentral.com/craftonhills/)
Watch this video on "How to Dress for an Interview".
Dress for Success Interview Tips
Before the Interview
Be Prepared – Research the company, have your updated resume, and list of references
Know where you're going ( Visit the site before the interview)
The Interview
Arrive Before interview Time (10-15 minutes)
Smile and Stay Calm
Dress Appropriately
Have a Firm Handshake
Know your Strengths, Weaknesses, and Goals
Bring a Pen and Notepad
Ask at least 1-2 Questions
After the Interview
Ask for a Business Card and Send a "Thank you Card/Email."