Crafton Hills College is happy to offer its students online tutoring! Tutoring is available for most subjects. To see current offerings, click on the appointment link.
You can access online tutoring using a computer, tablet, or smartphone.
If using a computer, students must have a working knowledge of computers; a webcam, microphone, and speakers (quite often computers come with these installed); an internet connection; and basic knowledge of how to navigate toolbars, share files and make adjustments to video and sound.
If using a tablet or smartphone, students must have the Zoom app:

ZOOM Cloud Meetings downloaded; a working camera, microphone, and speaker; an internet connection; and basic knowledge of how to navigate apps, share files and make adjustments to video and sound.
If you would like a quick introduction on how to use Zoom before your appointment, check out the Help information below.
Making the Appointment
Online Appointments are made through an external website. Click here for the link: www.picktime.com/chconlinetutoring. Once on the site, follow these steps to make an appointment:
Select the subject you would like tutoring in.
Select a specific tutor.
Select a date to check the tutor's availability.

If you can't find a time that works with your schedule, check a different tutor's availability.

Select a time slot.
Enter your information:

Phone number
Student ID number
Student email address

Please only use your student email address.

Enter any information that you would like to share with your tutor in the "What do you need help with?" text box.
You should receive a confirmation email with the details of your appointment.
At the time of your appointment, you will receive an email from your tutor.
If you need to cancel or reschedule your appointment, or you do not receive a confirmation email, please contact us at CHCTutoring@craftonhills.edu.
Meeting with Your Tutor
Sessions are 45 minutes long. Students are expected to interact with the tutor via camera.
To get started, please check your student email account 5-10 minutes prior to your appointment time. You will be sent a Zoom conference link. If you don't see it, check your spam folder or refresh your inbox.
If you do not join the meeting within 15 minutes of your scheduled start time, your session will be canceled.
Example Email: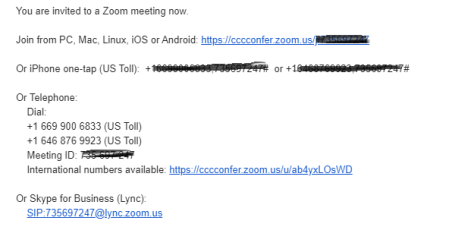 Click the link in the email.
If using a computer:
Follow the instructions on the pop-up box. (Download the client and enable audio and video. The prompt will indicate that you are joining a meeting) .
If using a smartphone or tablet:
The session will open automatically in the Zoom app. (Please download the Zoom app prior to your appointment).
Workshops
We will be hosting online workshops as well, on various Math and English topics, as well as Time Management and an Introduction to Being an Online Student. Click here to access the latest workshop schedules and topics.
Additional student success workshops are hosted through Student Lingo.
Help
If you are new to Zoom, it may be helpful to check out some of the following videos before your appointment. You can also check out these videos if you are having issues using Zoom in an appointment.
If you need additional assistance or have any issues downloading or accessing the program, you can contact Zoom Support. Be aware that Zoom is experiencing longer wait times than normal due to increased demand, so if you contact them it may be a while before they contact you back.

If you are having issues with Canvas, check out the Canvas Student Guide.

If you are having issues or have questions about online tutoring, please email the Tutoring Center Coordinator Nick Reichert at nreichert@sbccd.cc.ca.us.