COVID-19 Notice
During COVID-19 students will be able to make an appointment to meet with a counselor during Counseling hours online. See calendar below for online career counseling days/times.
Online New Student Advising Workshop
All new students to Crafton Hills College you must complete the "Crafton Hills New Student Advising" workshop prior to scheduling your Educational plan appointment. We will require students to provide proof of their certificate of completion. Go to Student Lingo to complete your "Crafton Hills New Student Advising" workshop.
Technical Requirements for Cranium Cafe:
Chrome internet browser
Any desktop or laptop/tablet with a camera (preferred method) OR smartphone device (iOS Apple devices require download of the ConexED App)
Videos on how to access and log into Cranium Café are available here.
Cranium Café Hours:
Monday – Thursday 1 p.m.-5 p.m.
Friday 9 a.m.-1 p.m.

Finding An Appointment You Have Scheduled
Start off by checking your E-Mail or logging into Cranium Cafe, then follow the steps below:
Step 1:
After logging in, select "Cranium Café" on the left of the screen and choose "My Café Appointments".
Step 2:
Your appointment will be listed there. You can "Join Café" meeting 5 minutes before your scheduled appointment or use the "Meeting Link" to enter your appointment.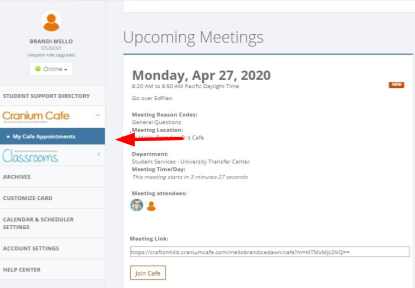 Getting Started:
Please review our
FAQ
page before starting an online counseling session as you may find answers to your questions/concerns there.
Video chat on Cranium Cafe with Abeyta, Rebecca
Video chat on Cranium Cafe with Orta, Rebecca Ann.