Major & Career Planning Resources
Career Planning in 6 Steps Model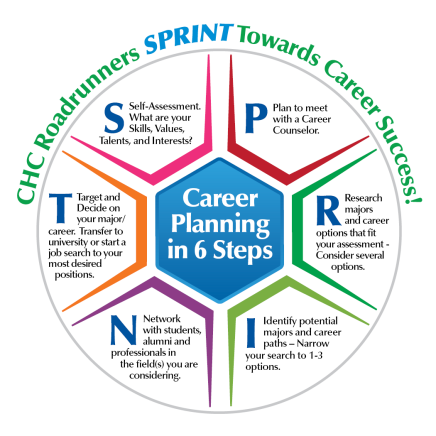 Planning Check Off List
S - Start with a FREE Career Assessment available on Career Center web page. Ask yourself, "What motivates me? How does my personality affect my work style?"
P - Plan now! Don't delay, Schedule your appointment with a Career Counselor.
R - Research several major/career options. Utilize the Career Planning links below.
I - Identify potential career paths with the What Can I Do with this Major sheets. Determine what type of education/training you need and what college/university offers the major you are considering.
N - Network and gain experience through internships or volunteer positions. Get involved in student clubs related to your field. Develop essential career-related skills. Focus on academic coursework/projects to gain knowledge in your field of interest.
T - Target and decide on your next steps; Choose a Major. Develop an SEP and plan to graduate. Prepare for university transfer or job search. Design a professional resume and cover letter. Practice with Mock Interviews at the Career Center. Identify the best job search methods for your field of interest.
What is a Major
A major focuses on one discipline area. A majority of your courses will be a foundational understanding of this discipline with a few courses in specialized areas of the discipline. The major can lead to several possible career opportunities and areas within the major.
Major Planning
What is a Career
A career is an occupation or profession in one particular area within a discipline that may last over a long period of time or a lifetime.
The following online resources are available at no cost to students and community members:
Career Planning