We offer:
Dual Enrollment
Outreach
Placement Process
SOAR Program
This dynamic service is designed to provide synchronous online sessions for students who might otherwise not be able to visit the campus. These online services utilize Cranium Cafe; an interactive and secure online meeting hosting portal with chat and video conferencing features.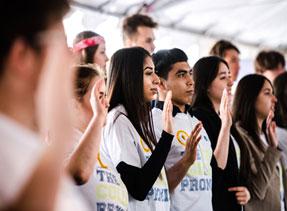 Technical Requirements:
Chrome internet browser
Any desktop or laptop/tablet with a camera (preferred method)
OR smartphone device (iOS Apple devices require download of the ConexED App)
Is Online Right for Me?
This service is for current and prospective Crafton Hills College students who have time constraints, making it difficult to meet with the program in-person during normal business hours. A variety of questions may be answered during an online session. However, due to the nature of online services, some topics/services must be discussed with a staff member in-person.
Online Appointments and Drop-In is available to answer questions on the following topics:
General Free College Promise questions; dates, deadlines and procedures
Program requirements
Other Free College Promise related questions
Make-up testing, exams and distance education Proctoring
Other testing related questions
students requiring face-to-face appointments may call 909-389-3267.
Getting Started:
You may meet with a staff member online by "Knocking" on the virtual door (indicated by the green button on their Cafe Card, shown below).
Video chat with Test Center and Promise Program on Cranium Cafe