Accessibility Help for Online Faculty/Accommodating DSPS Students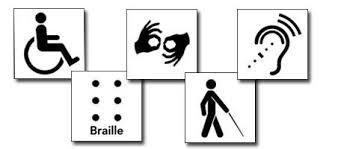 There will be SAS students in your online classes who require accommodations



Have you received a SAS Faculty Notification Letter that requires an accommodation for a student, but not sure how to accomplish this in an online class? Below are quick answers for you!
What Online Materials Need to Be Made Accessible?
All web-based materials (content in Canvas, HTML files, PDF files, PowerPoint presentations, Word documents, Excel spreadsheets, video files, audio files, images) for use with online, hybrid, blended, or face-to-face classes must be ADA compliant if they are part of the course's instructional content.
This includes:
Content created by the instructor within your school's learning management system.
Files uploaded by the instructor to your school's learning management system.
Files uploaded by the instructor to your school's learning management system (Canvas).
Material created or controlled by the instructor, but hosted on another server.
Content used as course material provided by educational publishers and other third-party websites.
What About Textbooks?
Though outside the instructor's responsibility, a student may need the textbook in an alternate format (e.g., Braille, large print, audio, electronic), which is usually done by your campus disability services.
Converting a print text can be a time-consuming process—one which causes the student to lose valuable time while it's being produced—so as an instructor, you can support students by opting for digital Open Education Resource (OER) textbooks and learning materials (that have been vetted for accessibility, of course).
Optional Course Content
Current guidelines indicate that material that is truly optional is not held to the same strict compliance standards. But keep in mind, a student who is disabled can't take advantage of things like "optional" review or extra credit activities unless they're made accessible.
Know that "accessibility" is an ever-evolving topic
Guidelines are regularly being updated and revised, often based on technological advancements or legal findings. It's important for you to do your best to stay informed. (It's a good idea to make friends with an accessibility expert. =-)
Demo Videos:Top 10 SAS Accomodation Requests
Live Captions in Zoom: how to setup Zoom correctly for your SAS student
Extending Test Time for a Canvas Quiz
How to extend or unlock a Canvas "Assignment" deadline for just one student:
Here is a PDF file with step by step walk-throughs on how to add, extend or adjust a deadline for an assignment for only one student, or for multiple students.
Auto-Generate and Edit Closed-Captions on Studio Videos With Canvas Studio:
Demo: Canvas Studio Captioning Tool
Here is a PDF cheatsheet file on captioning with Studio
This brief video shows you how to auto-caption all your course videos'captions right inside Canvas! You will also see how to quickly edit your captions transcript for typos and publish the new captions to your video. Remember, auto-captions are typically not very accurate, (approx. 85%) so using auto-captions is best as a temporary solution until you have had your video professionally captioned, so it is 98-99% accurate, as required by law!






















---

3C Media Solutions - Free Professional Captioning for CA Community College Instructors
3C Media Solutions is a Chancellor's Office grant funded service that provides FREE captioning for online/hybrid California community college instructors (When funding is available). Content is uploaded to 3C Media on your own page, and your content is captioned (usually) within 5 days. You must first create your own free 3CMedia account to start using this service. Note: captioning is available only for class instructional content and for videos over 30 mins.

Note: Grant funds for 3C Media captioning are limited. 3C Media gets CA grant funding from the CCC, so they can offer CCC faculty free professional (human) captioning. This means it is 98-99% accurate, meeting the ADA requirement for all required course instructional videos or audio.

---
VITAC - Live Professional Captioning & Transcript service


CHC is a recipient of a grant for professional captioning and transcription services provided by Vitac to provide notetaking, captions, and transcription services for SAS students who qualify. Before we can provide this service to your students, instructors must have a very brief training with Suzanne Delahanty, CHC's Alternative Media Specialist. If you have a student in your class who required live captions, Suzanne Delahanty will reach out to you at least 2 weeks prior to your class start. If you would like to know more, contact sdelahanty@craftonhills.edu.
---
Add Captions to Your Microsoft Office 365 Powerpoint Presentations
Note: this only works on 365 or web versions
Demo: Adding Captions to your 365 Powerpoints


Here is a PDF Cheatsheet with the steps on adding auto-captions to Powerpoint-365.
Prefer Google Slides? Google has rolled out automated closed captioning feature for Google Slides Presentations. This feature will make your presentations more accessible to audiences that are deaf or hard of hearing. As you present your slides, auto captions will appear as you speak.


---
Create Auto-Captions for Live (Real-Time) Class Meetings or Lectures with "Web Captioner"
---
---

Captioning a Recorded ZoomConfer Meeting in Canvas
ConferZoom will Auto-Caption any previously recorded video automatically and will email you when the recording's auto-captions are completed.
---
Other accessible tools worth mentioning:


Creating Screen-Reader Friendly Documents:



---


Ava: A Free Auto-Captioning & Notetaking Tool for everyone
Ava is a Free Closed Captioning Tool and Note-taking App that works on Macs, PC's, phones and tablets. For more information, visit our AVA resource page for guides, demos, links and resources.