Technical Requirements for Cranium Cafe:
Chrome internet browser
Any desktop or laptop/tablet with a camera (preferred method) OR smartphone device (iOS Apple devices require download of the ConexED App)
COVID-19 Notice
During COVID-19 students will be able to make an appointment to meet with a counselor during Counseling hours online. See calendar below for online career counseling days/times.
Fall Hours:
Monday 9 a.m. to 6 p.m.
Tuesday through Thursday 9 a.m. to 5 p.m.
Friday 9 a.m. to 1 p.m.
Finding An Appointment You Have Scheduled
Start off by checking your E-Mail or logging into Cranium Cafe, then follow the steps below:
Step 1:
After logging in, select "Cranium Café" on the left of the screen and choose "My Café Appointments".
Step 2:
Your appointment will be listed there. You can "Join Café" meeting 5 minutes before your scheduled appointment or use the "Meeting Link" to enter your appointment.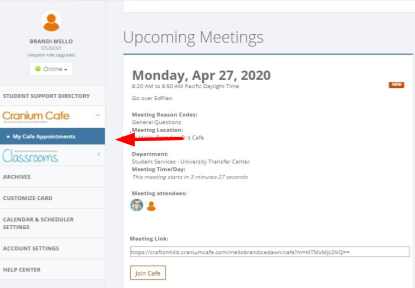 Getting Started:
Please review our
FAQ
page before starting an online counseling session as you may find answers to your questions/concerns there.