The College Honors Institute (CHI) provides highly motivated students who have demonstrated outstanding academic achievements the opportunity to participate in a program that challenges and deepens students' scholarship, creativity, and commitment.
The CHI experience at Crafton Hills College provides students:
Potential priority consideration for admission to designated universities through honors transfer agreements
Use of the Honors Lounge (located in WEST-214)
An intellectually challenging curriculum
Distinctive transcript notations indicating the completion of honors coursework
Acknowledgment at convocation and commencement ceremonies
Opportunities to participate in scholarly research conferences
Opportunities to publish original work in honors journals
Invitations to special events
Share Your Story!
Friday, September 25, 2020
9 - 11 a.m.

For all of us, 2020 has been a year of unexpected upheaval, enduring privation, and continuous challenge. Each of us has accumulated a unique set of experiences, scars, coping strategies, victories and defeats.
We invite you to virtually share your relevant research, reflections, policy formulations, poetry, short stories, photography, art work, musical or dramatic compositions. Show us how you have reacted
to (or will proactively act toward) the great contemporary issues: COVID-19, BLM, lockdown, divisiveness.
All CHC stakeholders (students, faculty, staff, alum, community) are invited to share their creativity in whatever form they choose. For more details contact honors@craftonhills.edu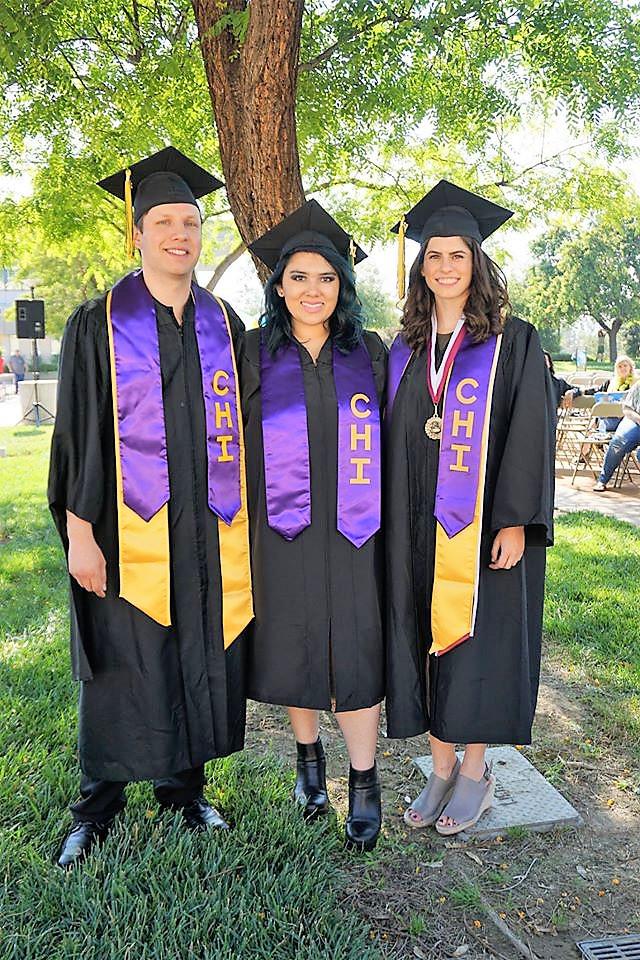 2017 CHI Graduates
From left to right: Derek Villavicencio (transferred to UC Irvine), Sierra Padilla (transferred to UC Berkeley, and Jade Saaty (transferred to Loma Linda University)