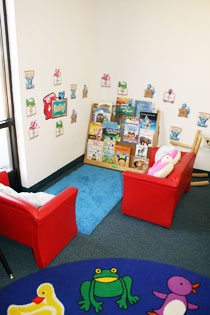 Reading corner
Mission
The Child Development Center at Crafton Hills College serves as a campus-based early education program providing both a laboratory setting to CHC students enrolled in child development courses and as a preschool program, with extended care hours, for those children ages 3-5 of students, staff, and the community. Providing demonstration classrooms to the college community, our program offers a model of best practice in the field of early education while providing students learning opportunities through observation and interactions with young children and their families. We strive to be the community's first choice for an early education program.
Philosophy
The philosophy of the Child Development Center at Crafton Hills College is based on a set of strongly held beliefs, we believe:
Each child is unique, valuable, and capable.
Children learn best through self-discovery, hands-on exploration, and interactions with others; children's play is the primary medium for learning.
The classroom teacher, the child, and the family are equal partners in our early education program.
Children learn best when supported by warm and responsive teachers who understand and work to meet each child's individual needs.
It is our charge to provide supportive and nurturing environments that serve to build a sense of community among parents, children and staff.
Weekly activities should be planned from a child-centered approach rather than a set of prescribed themes; and incorporate activities to build social and emotional, cognitive, and physical development.
Children are best understood and supported in the context of their family, culture and community.
Program Goals
To provide care and education in an environment that is safe and healthy with nurturing and responsive teachers.
To provide a model for best practices in the field of early childhood education to CHC students and others using the laboratory for child observations and interactions.
To be a resource for families.
To support children's development and readiness skills in order for them to be successful and better prepared for the formal education setting.
To be welcoming and supportive to all families and family structures.