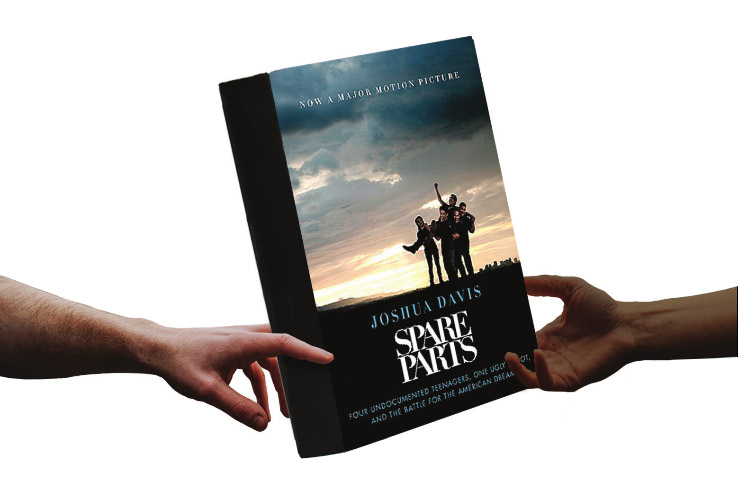 Spare Parts Essay contest extended to this Friday, April 9 by 5 p.m.
Spare Parts: Four Undocumented Teenagers, One Ugly Robot, and the Battle for the American Dream
One Book/One College at Crafton Hills is a college-wide reading initiative with the main purpose of bringing together the Crafton Hills campus community through the reading of a common book focused on equity and inclusion. This year, students, faculty, staff, and administrators will select and read a common book. The One Book/One College task force in collaboration with the Professional Development committee will hold a series of free events to encourage college-wide conversation, creativity, and community.
Events
Learn more about Spare Parts and the individuals who are profiled in the book by participating in campus-wide events!
Calendar of Events
Robotics and Robotics Art Competition
Design, build, and exhibit your own robot or robotic art piece in this campus-wide competition. There will be prizes in multiple categories!
Robotics Competition Details
Essay Contest
Show us your best writing by submitting an entry for an essay contest based on Spare Parts! Win cash prizes and a chance to be published!
Essay Contest Info
Join us March 3 for a special "Afternoon With Oscar Vasquez"
Noon - 1:30 p.m.
Oscar Vazquez, one of the four undocumented students featured in the best selling book, Spare Parts, will share his inspiring story.
Like many DREAMers, Oscar's family brought him to the United States as a child in search of a better life. From age 12 when he moved from Mexico to Phoenix, Arizona, Oscar excelled in the classroom at Carl Hayden High School where he was a member of the underwater robotics team, which won a national championship in 2004 that pitted them against some of the most prestigious engineering colleges in the country. That opportunity led to a college education in the STEM field, earning a B.S.E in mechanical engineering from Arizona State University in May 2009. But without U.S. citizenship, he couldn't secure a job to provide for his new wife and newborn child. He returned to Mexico to apply for a visa and legalize his status, but was denied twice. With the help from Sen. Dick Durbin, who spoke from the Senate Floor about Oscar's case, he was granted a visa in August 2010. Six months later, Oscar enlisted in the Army to serve the country he loves and calls home. Oscar served one tour in Afghanistan. He now works for Burlington Northern Santa Fe Railway as a business analyst in Fort Worth Texas.