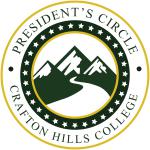 Invitation to Join President's Circle
Support Crafton Through Annual Leadership Giving
Contributions made by our annual leadership donors provides support to meet the most immediate challenges facing CHC. This select community of donors set the pace for advancing the Foundation's mission of "enhancing educational excellence".

Membership in the President's Circle is open to donors who contribute $1,000 or more to the President's Circle fund within the fiscal year.

All President's Circle members receive:
Invitations to exclusive President's Circle events throughout the year.
Prominent acknowledgment and listing as a President's Circle member in all appropriate publications.
Name listed on the Wall of Distinction located in the Learning Resource Center.
Thank you to our generous President's Circle Members:
19six Architects
Raul Aballi
Rebecca & Michael Abeyta
AECOM
Bill & Paula Ahlborn
Denise Allen
Pamela Allen & Frank Yamanishi
Veronica Arrowood
Krysten Audibert
Donald & Carol Averill
David Avila & Ellen Benefiel
Larry & Monique Aycock
Brandi Bailes & Michael Casadonte
Paul & Joann Barich
Ward Beattie
Donald Benfield
Cali & Kelli Binks
Luke Bixler
Willie Blackmon
Kelly Boebinger
Ray & Margie Casey
Louis & Rejoice Chavira
Ryan & Heather Chittenden
Kristen Clements
Climatec
Sara Clopine
Kent & Karen Colby
Larry & Linda Cook
Cheryl A Cox
Chloe De los Reyes & Giovanni Nicholas
Design West Engineering
Darren Diess
Nathan Diones & Jennifer Ares
DLR Group
Ken & Wynona Duvall
Erickson-Hall Construction Co.
Donna Ferracone
Ed Ferrari
Linda Fontanilla
Damian & Pauline Garcia
Louis & Patricia Gomez
Nathan Gonzales
John Grounds
LaTesha Hagler
Thomas Hancock
Walker & Kristina Hannon
Ryan Harold
Bill & Gloria Harrison
HMC Architects
Ryan & Aubrie Holloway
Kevin & Erica Horan
Philip & Janice Horan
Larry & Stephanie Houston
Eric & Allison Hutchins
Sam Irwin
Alex Jaco & Michelle Cazares
Dr. John Jones
Shirley Juan
Dick & Theresa Larsen
Veronica & Scott Lehman

Natalie Lopez
Rainier Lopez
Mariana Macamay
Carlos A. Maldonado
Markarian Law Group
Rebbecah & Steve Marlatt
Ann & Christian Martgan
Danielle McCoy
Julie and Brandon McKee
Meridyth McLaren
Marty Milligan
Rick & Amy Minjares
Dr. Phong Nguyen
Robert Nunes
David & Dinora Oleson
John Oliver
Margaret Orland
Dr. Nohemy Ornelas
Rebecca Orta
P2S Engineering, Inc.
Dasa & Ericka Paddock
Doug & Rosaura Parsons
PBK Architects
Ivan & Michelle Pena
Karen Peterson
Diane Pfahler
Celeste Reid
Harvey Ricketts & Betty Jo Wood
Sam & Michelle Riggs
John & Millicent Riggs
Ernesto Rivera
Jillian Robertson
Angel Rodriguez
Diana Rodriguez & Jeff Barraza
Elaine Rosen
Rene & Shana Sampay
Racquel Schoenfeld
Mathew & Karen Smerber
Barbara L Smith
Michael & Casandra Smith
Jeffrey Smith
Mark & Bonnie Snowhite
Giovanni Sosa
Rodney & Delmy Spencer
Chris & Cyndie St. Jean
Michael & Amy Strong
Tilden-Coil Constructors, Inc.
John & Karen Tincher
Jose Torres
Robert Visconti
Danny & Amanda Ward
Richard & Kathryn Weiss
Greg & Leslie Wessels
Sherri Wilson
Doug & Linda Witham
Brian & Megan Wolfe
Dan & Celia Word
Keith & Sheri Wurtz
Soutsakhone Xayaphanthong & Guillermo Garcia
June C Yamamoto
For more information, please contact: Michelle Riggs 909-389-3391 or mriggs@craftonhills.edu