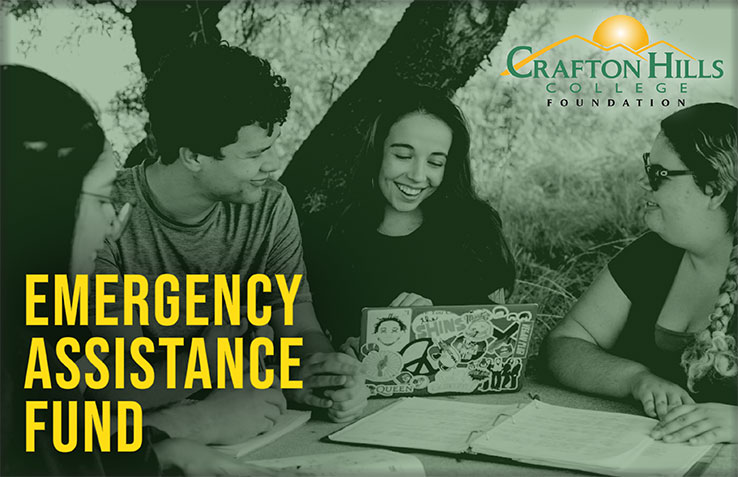 How You Can Help Crafton Students Impacted by Covid-19
When Crafton Hills College announced that students will not be returning to campus during the COVID-19 pandemic, many of you reached out to ask how you can help.
Effective March 30, 2019 Crafton Hills College has transitioned to a remote learning environment through the end of spring 2021 to ensure the safety of our students, faculty and staff. While we know this is the best thing to do to keep our community safe, we also know that many students are facing additional challenges and financial burdens.
In response to the evolving challenges of the COVID-19 pandemic, we are building support for the Crafton Hills College Emergency Assistance Fund. This fund exists to help provide direct financial assistance for our students experiencing unforeseen financial hardships such as:
Access to technology at home
Lost jobs/wages
Basic needs (food and rent)
We are doing everything we can to help them respond to these challenges and provide them with the financial support they need.
The CHC Foundation Office is also working remotely to continue serving our students and community. While the physical office may be closed, you can still reach the Foundation by phone or by email. Due to the remote working situation, we ask that you consider making your gift online at this time as checks may take significantly longer to process than usual.
Thank you in advance for your support of Crafton's students. We hope that you and your family are staying safe and healthy, and that together, we can rise to the challenge of supporting one another during these difficult times.
Sincerely,
Kevin Horan
President, Crafton Hills College