Orientation is mandatory for all students to complete the enrollment process. This is an Online Orientation to Crafton Hills College. In order to get credit for completing the Orientation online you must start the Orientation from within WebAdvisor.
Completing the Online Orientation
You must know your Student ID number to access your WebAdvisor (if you don't have you student ID there is a link "What's My College ID" on the WebAdvisor log in page that allows you to retrieve this information.
You will need to answer 9 different questions and complete all six sections of the Orientation (see image below)
Start the Orientation (You will be taken to WebAdvisor).
Once you have logged into WebAdvisor you select "Current Student" which will direct you to the Student Menu. Under the "Other Services" heading select "Online Orientation". You will then need to select "Crafton Hills College" in the drop-down menu when you are asked to select a college. You will then be directed to the opening screen of the orientation. You may select either the English version or the accessible version for individuals with visual or hearing impairments.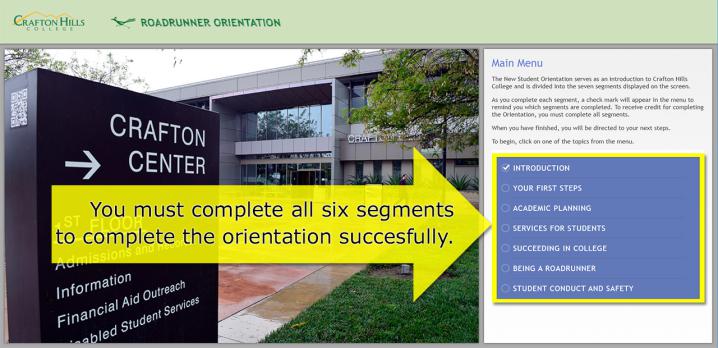 Completing the Online Orientation as a Guest
If you are NOT a Crafton Hills College student or do not have a student ID number you may enter the Online Orientation as a guest.
Completing the Orientation as a guest DOES NOT give credit for the Orientation step for Matriculation.

If you wish to complete the Orientation because you plan to attend Crafton as a student go to the New Student Online Orientation link above.
You will need to go to the Counseling Web Page to find the link to the guest orientation.