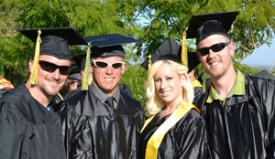 Graduation Application Deadlines
For students who are receiving AA-T or AS-T degrees, and have self-reported to their CSU, the deadline for ADT reporting may be sooner than the posted application deadlines.
Degrees & Certificates
Term
Application Period
ADT Application Deadline
Fall
Aug. 1 - Oct. 30*
October 4, 2019
For students enrolling at CSU for Winter 2020 and/or Spring 2020
Spring
Nov. 1 - Mar. 30*
Summer
Apr. 1 - Jun. 30*
* When printed deadlines fall on either a Saturday, Sunday or federal holiday, the filing period will be extended to the business day following the deadline date.
Students applying for graduation must submit the graduation application on or before April 10 to be included in Commencement publications.
Have questions?
Email us: Admissions@craftonhills.edu
or call 909-389-3372.