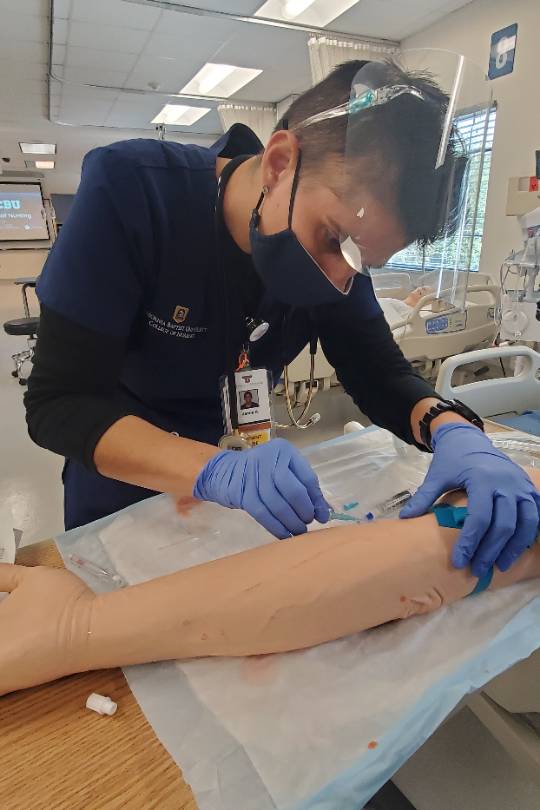 —Crafton gave him a new chance!
Jamie Robards knows hardship well. The Crafton alum was born prematurely, which left him with physical and cognitive disabilities throughout his childhood. His parents left him to be raised by his grandparents. The combination of so many struggles early on left him feeling inadequate, and he struggled in school. Demoralized, Robards dropped out of high school before he was able to earn a diploma.
"I never felt like I belonged at school and that I would never succeed in anything," Robards said. "I ended up dropping out of high school in my second senior year because I just felt defeated, and I broke my grandmother's heart."
He tried a community college in Maryland when he was 23 but was injured in the middle of the semester and required surgery. After failing to keep up with his classes, he was placed on academic probation.
"I quit school again and was convinced that I was not meant for college," Robards said. "I had always wanted to work in the medical field, but I didn't feel smart enough."
Robards could have easily given up and let the bullies and naysayers he had encountered dominate him. Instead, he chose a different path. He chose Crafton.
"It was my fiancée who pushed me to follow my dreams of becoming a nurse and to re-enroll in college. She had graduated from Crafton, as had many other people that I had become acquainted with. Every one of them suggested I apply to Crafton to obtain my pre-requisites. All of them gave me the same rave reviews about Crafton, stating that it was such an amazing community college and that they wished they could have completed their entire programs there. After hearing all of the wonderful things, I decided to attend."
He completed his first semester with a 3.5 GPA. After his first semester, Robards was injured again and required yet another surgery. He took two semesters off to recover from his surgery.
"This was my, 'I told you so' moment," Robards said. "Part of me did not want to go back, but my fiancée insisted that I do. Upon returning, I had finally decided that I could do this and was going to give it my all."
He did it. Over the course of his time at Crafton, Robards had four semesters with a 4.0-grade point average (GPA), one semester with a 3.75 GPA and one with a 3.25 GPA.
Before he could graduate, Robards had to earn his General Education Development (GED) or a high school diploma. In 2018, he enrolled in the Yucaipa Adult School to do just that. On June 1, 2018, Robards earned his high school diploma. One year later, on May 24, 2019, at the age of 33, he graduated with two associate degrees from Crafton: an Associate of Science in Health Sciences and an Associate of Arts in Social Science. His beloved grandmother died during his last semester, but he knew he had to continue his studies to become the person he had always dreamed he could become.
"I was proud of myself for the first time in my life and it gave me the confidence to continue my education and to move forward with obtaining a BSN [Bachelor of Science in Nursing]," Robards said. "These challenges that I had to overcome have made me see myself as a completely different person. I now see myself as someone with perseverance, as someone who can do it, and as someone who is resilient through all things."
Nursing is always in high demand in California, according to the California Centers of Excellence (CCE), which studies workforce demand on behalf of the California Community Colleges system. The CCE reported more than 48,900 nursing-related jobs in the Inland Empire and Desert Region in 2016 alone, and employment for these jobs is expected to sustain healthy growth -- the industry is expected to grow 5,725 new jobs each year through 2021. These jobs typically pay well -- the average yearly salary for a registered nurse (RN) in Yucaipa is now between $61,808 and $110,207.
Crafton offers prerequisites for an ADN (Associate Degree in Nursing), a BSN (Bachelor of Science in Nursing) and an Entry-Level Nursing (Master of Science) program. Prerequisite courses also prepare students for the nursing school entrance exams, including the TEAS (Test of Essential Academic Skills), the HESI (Health Education Systems, Inc.) and/or the PAX (Pre-Admission Exam) used by various nursing programs nationwide.