Native American Heritage Month: Opening Ceremony
Thursday, Nov 4 noon – 1 p.m.
Join us as we celebrate the beginning of this year's Native American Heritage Month Celebration. Learn about Native American food, enjoy speakers, and get a preview of what is to come.
To register, click here: https://www.eventbrite.com/e/crafton-hills-college-native-american-heritage-month-opening-ceremony-tickets-201325448837
Theatre Performance – The Apocalypse Project – THIS WEEKEND!
Nov 5 & 6 at 8 p.m. or Nov 7 at 2 p.m.
$5 tickets available online: www.craftonhills.edu/tickets
November Writing Workshops are taking place in the Tutoring Center and Online.
Timed Writing, MLA Style, APA Format, Study Skills, Digital Annotation: Kindle, PDFs and More, Essay Writing, and Scholarships.
For more info, and to sign up, check our Workshop and Study Groups Page: https://www.craftonhills.edu/current-students/tutoring-center/workshopsandstudygroups/index.php
CHC ART GALLERY – New exhibit open Nov 3 – Nov 10; gallery hours M- TH 10 a.m – 4 p.m.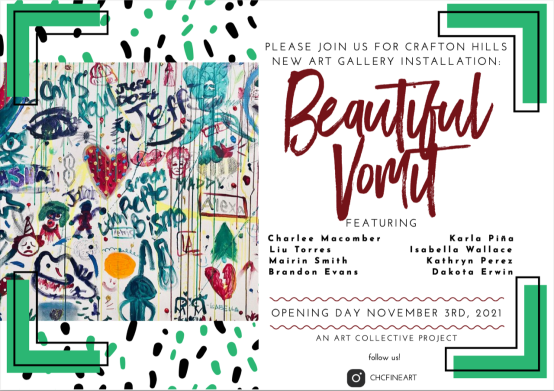 COVID and Flu Vaccine Clinic – Get Vaccinated and receive a $25 gift card plus a backpack!
Crafton Hills College is hosting a vaccine clinic on November 10 and December 2 from noon – 5 p.m. in Crafton Hall.
Receive Pfizer and return Dec 2 for your second dose, or the one dose Johnson & Johnson vaccine on either date.
Walk-ins welcome or visit https://myturn.ca.gov/ enter 92399 and click "see availability" to make an appointment.
VOLUNTEERS NEEDED -- CHC's 3 Peaks Challenge – Engage, Learn, Advance!
Join Crafton Hills College as we help sort food for the Family Service Association of Redlands!
Nov 13 from 9:30 a.m. - noon.
Wear a CHC t-shirt and closed-toe shoes. (If you do not have a CHC t-shirt, a green shirt works as well)
All friends and family are welcome!
Location: 612 Lawton St. Redlands, CA 92374. Group photo at 11:45 a.m.
Sign up here: https://www.redlandsfamilyservice.org/specialevents.html
Contact the Department of Student Life with questions stulife@craftonhills.edu
Do you have questions? We are here to help. Email us at chc_info@craftonhills.edu
FOLLOW US ON SOCIAL MEDIA!