All California students now have 30 extra days (until April 1) to submit a FAFSA/California Dream Act Application to receive Cal Grant priority consideration.
Apply today for the 2022-2023 School year. https://www.craftonhills.edu/current-students/financial-aid/apply-for-financial-aid/index.php
TODAY! "Black History Month RECAPPED!"
Tuesday, March 15, 12 -1 p.m. IN PERSON Campus Quad
Join us as we learn about the Black National Anthem, participate in a traditional Libations Ceremony, listen to spoken word poetry, review the month's events, and more!
TODAY! Each Mind Matters Workshop "Effective Relationships: Starting Them, Keeping Them"
Tuesday, March 15, Noon -1 p.m.
Link to Zoom available here: https://www.craftonhills.edu/current-students/counseling/each-mind-matters/index.php
TOMORROW! Spring Daze IN PERSON Club Rush
Wednesday, March 16, 10 am-1 p.m. IN PERSON Campus Quad
Meet campus clubs, win prizes, visit the food truck, grab some boba, and join the Soul Train line! AS Cardholders get free food and swag!
For more info, click here: https://www.eventbrite.com/e/crafton-hills-college-spring-daze-in-person-club-rush-tickets-293374820987
Virtual University Transfer Fair
Wednesday, April 6, 11 a.m. – 2 p.m.
It's never too early to connect with universities. Over 50 universities have RSVP'd to help you transfer.
Participating universities and fair information RSVP Eventbrite Registration Video on how to connect with the universities Questions to ask university representatives Brought to you by Crafton Hills University Transfer Center.
Find out more! https://www.craftonhills.edu/current-students/university-transfer-center/transfer-fair.php
It's time! Apply for a summer internship today!
Check out the listing of Internships on the career center webpage and/or scan the QR code to start applying.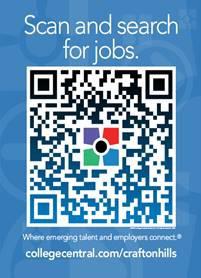 collegecentral.com/craftonhills.edu
Vaccine Requirement
To be able to register for in-person courses at CHC for summer or fall 2022, students must provide proof of COVID vaccine or be approved for an exemption.
Find out more: https://sbccd.edu/covid-19-updates/index.php
FOLLOW US ON SOCIAL MEDIA!