Welcome Back, Roadrunners!
Classes and Services are Remote.
To help prevent the spread of the virus in our community, we will temporarily transition to online services, distance education, and remote working from January 18 through February 27. Your instructor will be reaching out to you with information on how to access your class through zoom. Student Services are available online: https://www.craftonhills.edu/current-students/online-student-services/online-student-services.php
Up to date information is available here: https://www.craftonhills.edu/features/covid-19-response-resources/index.php
All Crafton students are eligible for FREE Books through Books+ this semester!
Find out more: https://sbccd.edu/books-plus/index.php
We have more classes starting in 2 weeks! Add another class and finish sooner. https://www.craftonhills.edu/SBCCD/CHC/Files/Informer_Reports/2022SPLateStart.pdf
Vaccine Clinic On-Campus Jan 20 and Feb 5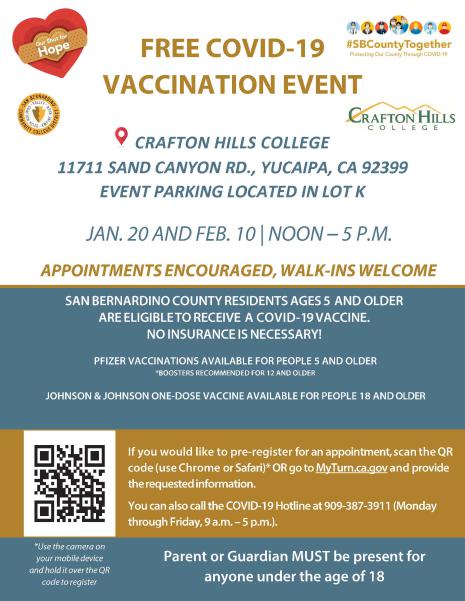 FOLLOW US ON SOCIAL MEDIA!