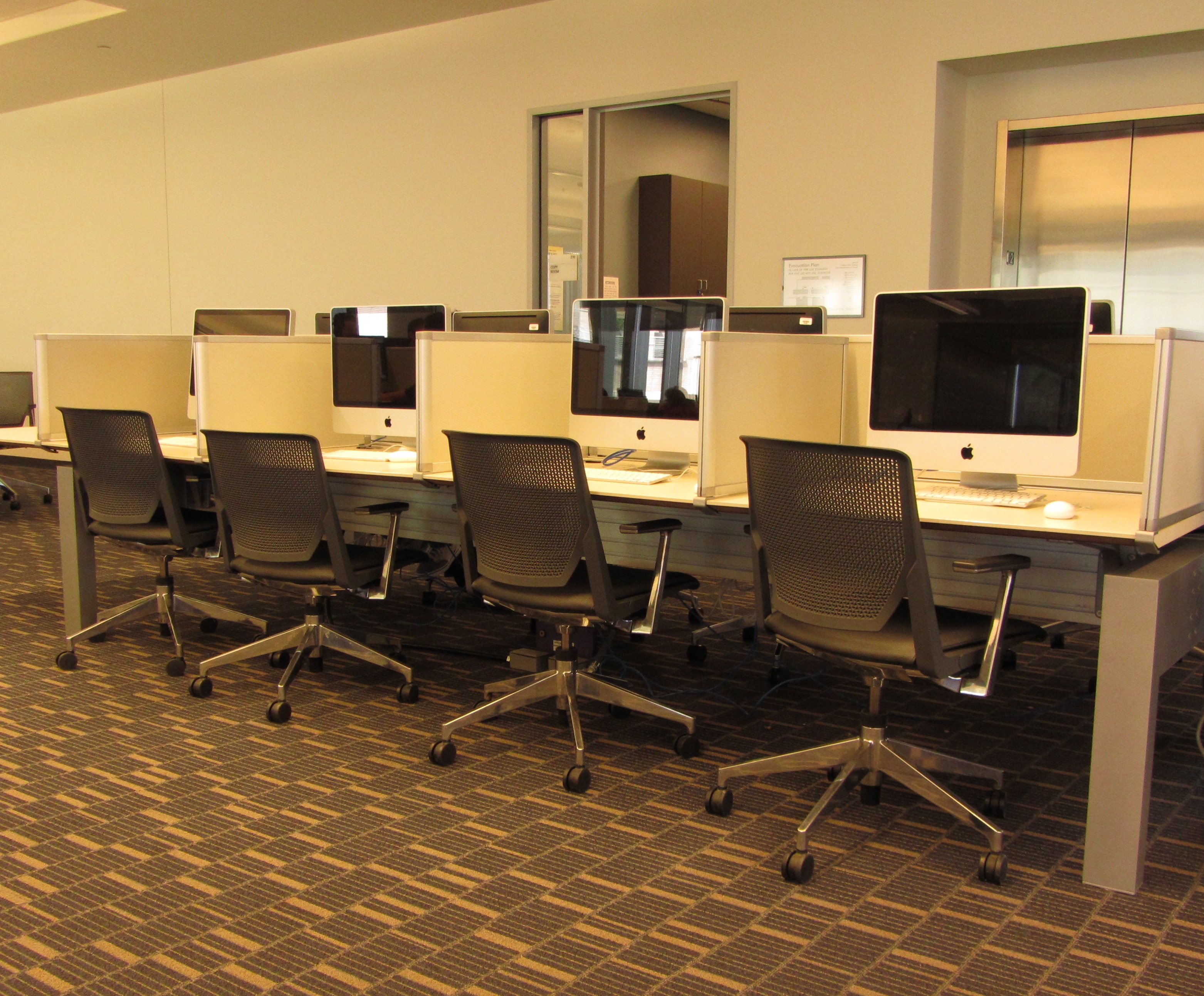 What do I need to use a computer? How do I log in?
We have 96 public access computers that are available on a first-come/first-served basis. Just find an open computer, log on and get started. If you are the first to use the computer that day, you may be presented with a log-on screen. You do not need to enter any username or password—simply click "OK" or "Cancel" and the computer will log you on as a student user.
Do I need to reserve a study room?
We have 11 study rooms that are available to groups of two ore more students on a first-come/first-served basis. At this time, we do not reserve study rooms in advance, though we may consider it in the future if necessary.
If there's one person in a study room and we have a group, can we kick them out?
If all of the study rooms are full and there is a single person using one room, you may knock on the door and politely ask them to vacate the room so your group can use it for a study session.
Single studiers are encouraged to share a study room with other students or use one of the other many quiet areas on the third floor for studying.
Someone is talking on their cell phone/talking too loud/making too much noise—what should I do?
You can politely interrupt the person/group and ask them to please tone it down. If they do not comply, please get a staff member to address the situation.
Students are advised that the library is a quiet place of study. Please keep cell phone and personal conversations to a minimum (or at least minimum volume), and be aware that sound carries in a quiet environment and music from your earbuds or laptops may be distracting to others.
Above all, we simply ask that you please be courteous when using the library.
Where's the bathroom?
There are men's and women's restrooms located on all three floors of the LRC: on the ground floor across from the Tutoring Center, on the second floor in the hallway across from the Auditorium, and on the third floor to the right as you exit the library elevator.
Can I bring this drink/candy/pizza for 10 in here?
Though it may seem unfair, food and drinks (other than bottled water) are not allowed in the library. We ask that you please respect this and not bring these items into the building. We have a beautiful, brand new, sparkling clean, multi-million dollar library that we are very proud of and we would greatly appreciate everyone's help in keeping it beautiful and pest-free.
We do understand that you need to eat, and for that reason there are some nice picnic tables on the east patio of the LRC (outside of the Art Gallery).
If you decide to sneak food or drinks into the library, please be aware that staff will ask you to take the offending items outside, or you may be asked to leave the library until you've eaten or disposed of your food and drink. If you manage to escape our notice, please be courteous adults and clean up after yourselves. If you spill food or drink, please use paper towels from the restrooms to clean up your mess. Do not leave containers, food wrappers, food, crumbs, garbage, baggies, cups, cans, fruit remnants or sticky spills for others to deal with. This is impolite and may potentially cause stains or other property damage, pest problems, or someone may have a medically serious allergic reaction to your items.
The No-Food-or-Drink rule is in place to protect the health of our library patrons, the ability to enjoy the library, and the protection of library property.
Can I get change here?
The Circulation Desk can occasionally make change for the copy machines, but we have a very limited bank and may run out mid-day. Please come to the library prepared with your own adequate change for any photocopying, printing or vending-machine business you need to accomplish. If you need change, the Campus Business Office can assist you.
The LRC copy machines DO take $1, $5, $10 bills. Please do not insert anything larger than a $10 bill into the copy machines as we cannot guarantee you will receive the right amount of change back from larger bills and the library does not keep enough money on hand to fulfill refund requests.
Do you accept credit cards? Where is the ATM?
We do not accept credit or ATM cards. There is an ATM just outside the Campus Business Office.