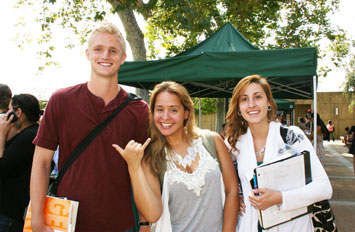 Is it your first semester at Crafton or in college?
Are you confused about what the abbreviations mean in the schedule?
Or are you possibly considering dropping out due to financial, child care or health problems?
Before you give-up or drop out, give the Student Success Program a call. The Student Success Program is here to help.
"It's not unusual for students to be confused or frustrated when they are trying to get oriented to a new school," said a Student Success Advisor, CHC transfer student and a former student working in CHC's Student Success office. "That's why we're here -- to help."
The Student Success Program was created to help students hook up with the resources and support they need to remain in school and be successful. The Student Success Advisor is an individual who has successfully completed her goals at Crafton and understands the demands of being a student. She shares the experiences of the returning students, the single parent and the student fresh from high school. She is eager to help others avoid some of the pitfalls of college life.
Email for Help or Information,
Or Call,
We encourage you to give the Student Success program a call or stop by the office if you have any questions or encounter any problems with attending or successfully completing your course work.
Visit us in the SSB, Room 214/Counseling Building, (See map)
Call for hours.
Location
The Student Success Program is located in the Student Services Building (SSB), room 214 (Campus Map).
Hours
| | |
| --- | --- |
| Mon-Thurs | 9 a.m. - 6 p.m. |
| Fri | 9 a.m. - 1 p.m. |
| Sat & Sun | Closed |
Phone: 909-389-3450
Email:
studentsuccess@craftonhills.edu