What is a Major
A major focuses on one discipline area. A majority of your courses will be a foundational understanding of this discipline with a few courses in specialized areas of the discipline. The major can lead to several possible career opportunities and areas within the major.
Major Planning
Assist.org – Learn what courses you need to take at Crafton Hills College that are transferrable to a California college or university based on your major/academic program of interest.
What Can I Do With This Major – Learn all the possible areas you can pursue based on your major of interest.
College Navigator – Find Majors and Programs for all colleges and universities in the US.
What is a Career
A career is an occupation or profession in one particular area within a discipline that may last over a long period of time or a lifetime.
Career Planning in 6 Steps Model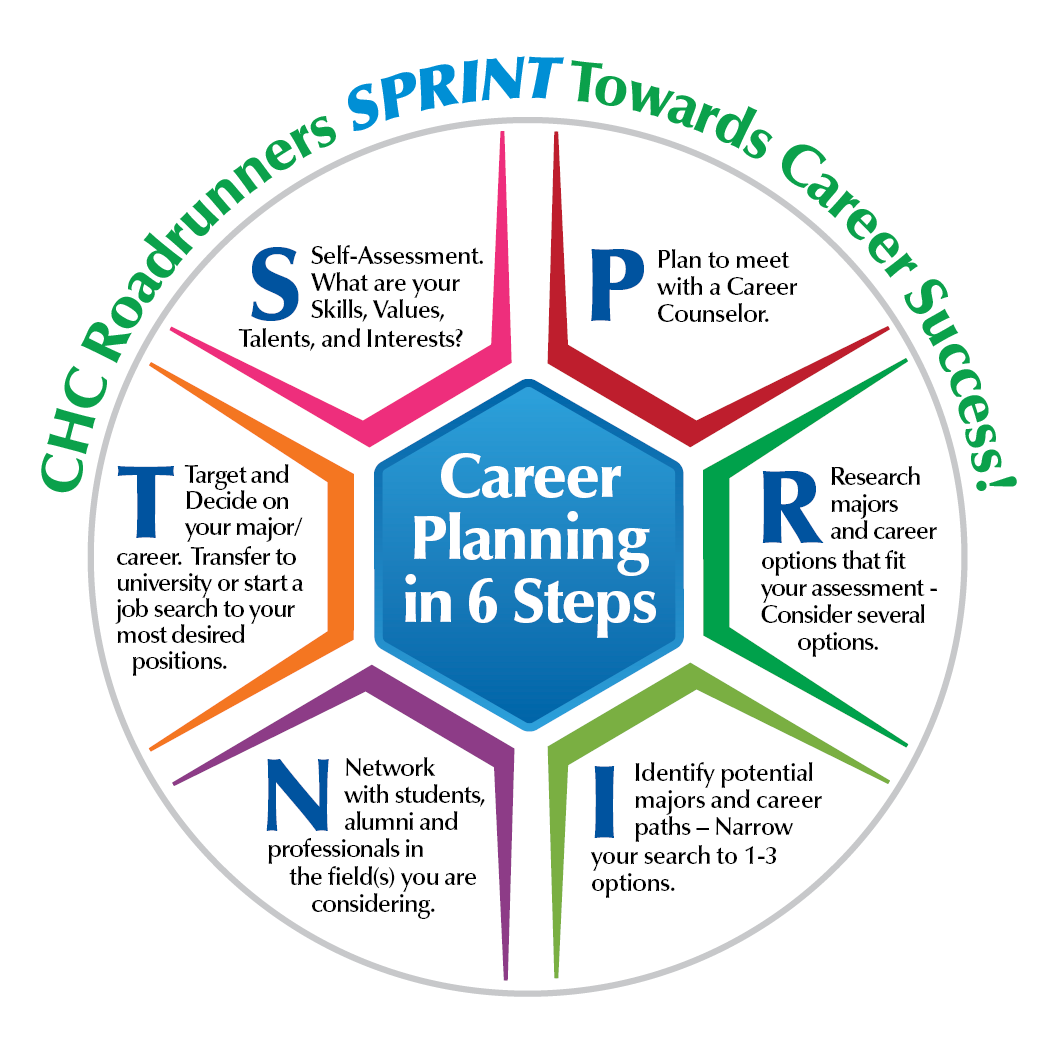 Planning Check Off List
S - Start with a FREE Career Assessment available on Career Center webpage. Ask yourself, "What motivates me? How does my personality affect my work style?"
P - Plan now! Don't delay, Schedule your appointment with a Career Counselor.
R - Research several major/career options. Utilize the resources listed on reverse side
I - Identify potential career paths with the What Can I Do with this Major sheets. Determine what type of education/training you need and what college/university offers the major you are considering.
N - Network and gain experience through internships or volunteer positions. Get involved in student clubs related to your field. Develop essential career-related skills. Focus on academic coursework/projects to gain knowledge in your field of interest.
T - Target and decide on your next steps; Choose a Major. Develop an SEP and plan to graduate. Prepare for university transfer or job search. Design a professional resume and cover letter. Practice with Mock Interviews at the Career Center. Identify the best job search methods for your field of interest.
The following online resources are available at no cost to students and community members:
Career Planning